I would like to begin this post with a disclaimer … I'm not affiliated with Marfy in any way and receive no compensation for promoting them.  I'm just a little fascinated with their style and want to pass news to those of you who, like me, don't have ready access to their patterns.
So, having said that, I received this in my inbox yesterday.  I've mentioned in the past that while Marfy catalogs are dear, they include free patterns which often make it well worth the cost.  Not to mention the fun of having these style books at hand to browse and be inspired.  I can't tell you the number of times I've pulled out my Marfy catalogs looking for inspiration on a style change I wanted to make.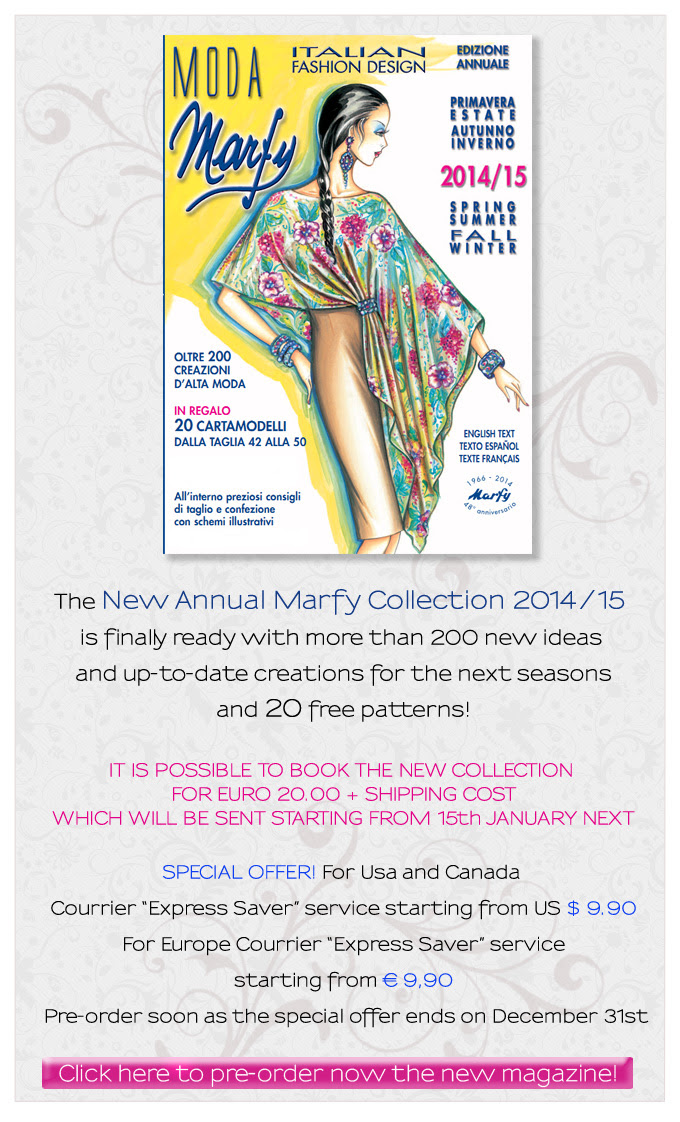 Did you notice this catalog has TWENTY free patterns.  That's many more than I've seen in the past.  Honestly, they are not all patterns I would use, but I think the patterns I do like make up the difference.  Here are a few of my favorites.  The center blouse is simple, classic and elegant.  I can see getting good use of that one for work.  And the dress at the far right is precious.   (The photo here is pretty small.  If you want a closer look, click the photo to go to Marfy's site.)
And the shipping cost is fabulous!  That's half of what I normally pay to the 'States.  I'm browsing the patterns to see what was on my wish list so I can combine a catalogue and pattern order.  The last time I did that, the patterns did not increase shipping costs.  Crossing my fingers that holds true this time.
You know, at some point, I really need to start cutting into these patterns and stop adding to my 'library'.  I know none of you do that, right?   There is a New Year's resolution list building in the back of my mind.  That may have to be part of that list in some way!
Happy Holidays and Merry Christmas!  I hope this season finds you and yours richly blessed.
Ramona